YES Disability Resource Centre is a not-for-profit organisation, working alongside young people with disabilities to promote inclusion within all realms of life. Our programmes are designed by young people to meet the needs of the community they serve. We are committed to ensuring that the voices of young people with disabilities are heard at every table and at every level.  
The Future Ready website was developed by Yes Disability and I.Lead, and co-designed by young people with disabilities with the intention of creating a better transition experience.
The idea for Future Ready came from young people telling us that they struggled to find information around the transition from school. We commonly heard that there was information scattered across the internet, but not a central place they could access it all. From this, they identified that it would be helpful to have a directory of nationwide resources they could access online. 
Whilst our website is aimed towards young people, we hope that parents, educators and others will find the directory and resources useful in supporting their young person on their transition journey. 
Our vision for Future Ready is to have an accessible website that is a 'one stop shop' for students, parents, educators and others to access all resources available throughout New Zealand that will make the transition from school to life a smooth one. It will be constantly updated to ensure that there is relevant information at all times, along with resources, tips and success stories to make the transition as enjoyable as possible. 
Our directory is the one stop shop for all providers, resources and services. 
You can search the directory by location, category, sub category and access needs. You don't have to select something in all of these to search. For example, you could search for all services in the Bay of Plenty that are accessible for Blind/Low Vision. 
Click on any provider to see more information about them or see their contact details.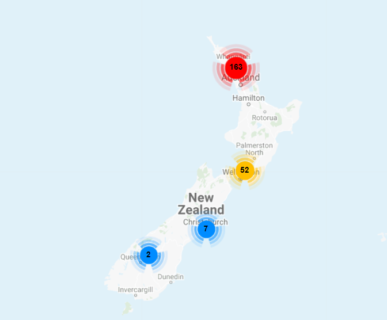 Or, you could use the visual map of New Zealand which will let you explore the different services available by clicking on a location. 
The Transition Plan tab contains useful resources. Here you'll find success stories, a guide on how to plan for your transition from school along with tips and tricks for success. 
You're able to contact us at the bottom of the website by clicking on the "contact us" link. This will take you to a form that comes directly to us once filled out. We'd love to hear your feedback and if you want to add anything to the website!
Frequently Asked Questions
Q. I have forgotten my login details. How do I login and change my password?
A. Please select I forgot my password and enter your email address to receive a link and reset your password. You can also change your password under My Account, Change My Password menu.
Q. How do I log out of my account, change my password or update my profile?
A. All of these functions can be found under My Account.
Q. How do I save a Guide listing to my favourites portfolio?
A. To save a listing to your favourites, please select Save This on the top right hand corner of your screen. The listing will be automatically added to your portfolio, which can be found in My Favourites under My Account.
Q. How do I remove a Guide listing from my saved favourites portfolio?
A. Your saved Guide listings are located in My Account, under My Favourites. Select Remove on each individual listings you would like to remove from your favourites portfolio.
Q. How do I share my favourites portfolio with a friend, my family or educator?
A. Your favourites portfolio is located under My Favourites in My Account. Please select the Send to a Friend function and add the required fields to share your portfolio with a friend, your family, support person or educator.
Q. What is a transition plan?
A. A transition plan assists you in planning, setting goals and developing skills and experiences to live a happy, purposeful and independent life after leaving school. There are many useful resources available for you to consider under our Resources tab.
Q. Is the Future Ready website accessible?
A. Yes we have partnered with accessiBe, click on the logo on the left hand side of the page and you have lots of options to make the website completely accessible and inclusive, such as cognitive disability and vision impaired profiles.
Q. Is the website available in different languages?
A. Yes the website is translated to Chinese, English, Maori & Samoan language. We use google translate so although the translation is not always perfect, it should be good enough to understand in your native language.
Q. How do I add resources, information or provide feedback on the Future Ready website?
A. We would love to hear from you, and welcome all feedback and contributions. Please email us at futureready@yesdisability.org.nz.