Whakarongorau Aotearoa is a social enterprise standing pokohiwi ki pokohiwi with our service users, sector, and funding partners.
They have provided free to the public national telehealth services in Aotearoa since November 2015.
Those services run 24/7 across seven digital channels including voice, webchat, and text.
In the 12 months to 30 June 2022 they responded to over 5.7 million contacts and connected with over 2.7 million people – 1 in 2 people in Aotearoa.
Whakarongorau Aotearoa have been here for the people of Aotearoa every day, and through national crises such as the COVID pandemic, the Christchurch terror attacks, and natural disasters as well as annual flu seasons.
Whakarongorau Aotearoa have the privilege of running free to the public, virtual health, mental health, and social services - available 24 hours a day, 7 days a week.
They want to give everyone in Aotearoa the opportunity for wellness. Whakarongorau Aotearoa focuses on the connected world of digital care, where they can help join all the dots, and select the right services, advice, support and help for the right need.
They use their healthy imagination to solve big problems by understanding the tiny ways that people are blocked from getting the care they deserve. Whakarongorau Aotearoa's imagination comes from their people and their partners and their drive to never give up.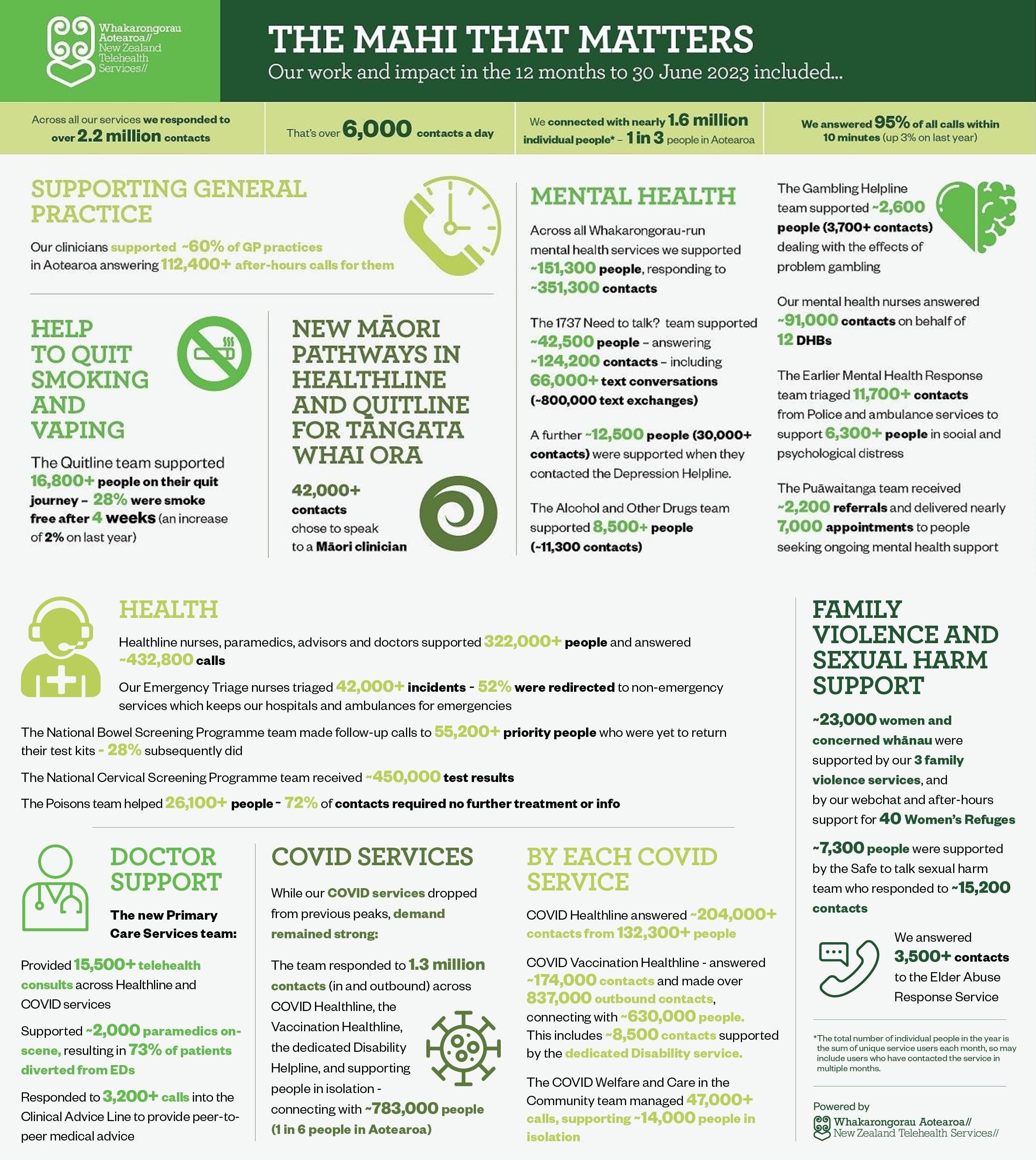 Their Name And Their Brand
In early 2021 they changed their name from Homecare Medical to Whakarongorau Aotearoa. Whakarongorau is a word to describe the many ways to listen - whakarongo (to listen) and ā-rongorau (a modern word for multimedia, the many ways of communication or media).
It is derived from the old Māori word whakarongorua (to listen with great intent and purpose). The English version of that name is New Zealand Telehealth Services.
The new name was developed with input from their staff, with design support from contemporary Māori artist Wayne Youle, and with appropriate guidance from their advisors. Wayne's design of the icon in our logo was inspired by the whakatauki He reo mārohirohi ka taringa rongohia // A brave voice deserves a sympathetic ear.